2016 Reserve National CH, judges Sam Whiteside and Dan Laney.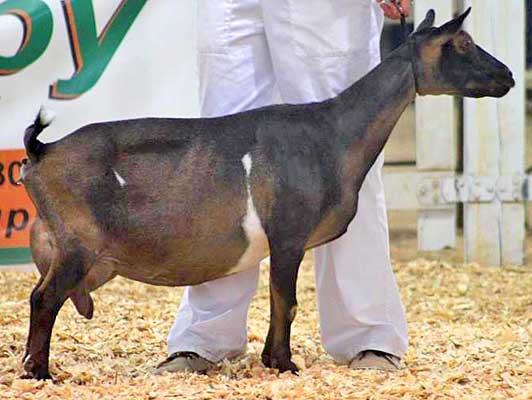 July, 2016, at the ADGA National Show, Harrisburg, PA. Photo by Kim Enos
August, 2014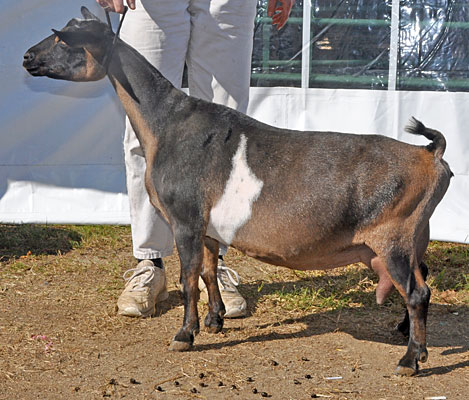 September, 2015
| | | |
| --- | --- | --- |
| DOB 7/25/08 | extended pedigree | LA 2010 +VE+ 83, 2011 VEVE 90, 2014 EVEE 90; 2017 EEEE 91 |
Another long, elegant, striking Hunk daughter. If all of my does could be similar in style to Peregrine, I'd be a very happy woman. Described by Lynn Fleming as "the most beautiful Nigerian Dwarf doe I have ever seen," just before she awarded her the Best Jr Doe in Show rosette in Windsor, Maine, May, 2009. Breathtaking but extremely skittish as a young doe, Peregrine has become a model citizen with regular milking. She freshened with a lovely well attached udder and nice capacity for a first freshener, but exceeded my expectations during her 2nd freshening, earning a 90 with E in mammary on our 2011 linear appraisal, and doing her part in our 1-2-3 sweep of the 2 year old class at the 2011 ADGA National Show. She is the lucky recipient of the huge family teats (see her granddam Calliope)--or maybe I am the lucky one since I am the one who milks her. She also has proven to be a capacious and persistent milker, putting up with repeated trips into the show ring and never slowing down her production.
Peregrine also made the AGS Top Ten list in 2012 for milk protein with 39 pounds, tying for high percentage on that list with 4.8%. Way to go, Peri!
Show record: 3 x 1st, 3 x GCH Jr (Lynn Fleming, Lynn Benedict, and Pete Snyder, May, 2009), 1 x BJrDIS (Lynn Fleming, May, 2009), 2nd in 2 YO class at the 2011 ADGA National show (behind National Champion Dragonfly RY Topaz), 3 x GCH Sr (Maine Spring Shows, May, 2012, Lynn Fleming, Jeremy Lesniak, and Lynn Benedict)
Kidding record: 2010, single buck by Halifax, 2011, buck/doe twins by Avatar, 2012, twin does by Hallelujah, 2013, buck/doe twins by King Asa, 2014, twin does by Ranger, 2015, twin bucks by Ranger; 2016, triplet bucks by Ranger; 2017, quadruplet does by Capriccio
July, 2016
May, 2012
May, 2011
April, 2010
305 day test data
Age (yrs.months)
DIM
Milk, lbs
Fat, lbs
% Fat
Protein, lbs
% protein
High test day, lbs
2.07
343
858
48
5.6
40
4.7
3.5
3.09
69
235
14
6.0
11
4.7
3.6
5.01
136
310
20
6.5
16
5.2
3.6
5.10
242
608
33
5.5
31
5.2
3.7
May, 2012 (Very bad choice of angles to the sun--she hasn't lost any of that fore udder or height of rear, it's a trick of the light, but look at that topline.) Udder photos below are from the same day.
May, 2011

July, 2011, ADGA National show, 1st, 2nd, and 3rd in the 2 YO class: Topaz, Peregrine, and Egghead (Photo courtesy of Allison Spacek, South Land Ranch)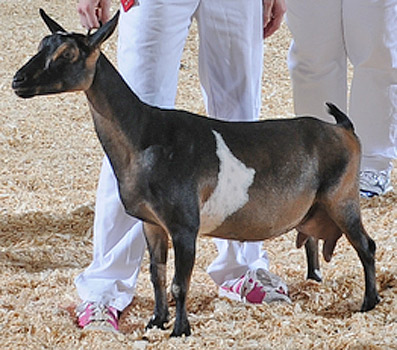 July, 2011, ADGA National show (Photo courtesy of Allison Spacek, South Land Ranch)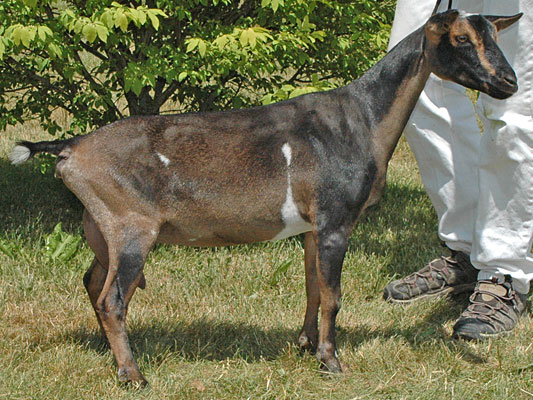 May, 2010
May, 2009, at home and (right) winning Best Junior Doe in Show, Windsor, ME