Dragonfly Farm Does For Sale
updated 1/9/16
If you are interested in any of the does on the first fresh or junior doe pages, feel free to let me know of your interest, and I will contact you if your choice becomes available.
I won't offer a doe as show quality unless I really believe it to be true. As most of us do, I have a continuing population problem!
| | | |
| --- | --- | --- |
| DOB 5/23/13 | extended pedigree | LA |
Full sister to Topaz, but not quite as nice a doe. Still solid conformation, a solid udder, and very exciting genetics.
$750 open--sold
Show record: not yet shown
| | |
| --- | --- |
| | |
| | |
| | | |
| --- | --- | --- |
| DOB 7/7/13 | extended pedigree | LA 2014 +++ + |
Another beautiful Avatar daughter...the way he is going, I will be retaining many more. Mithril is for sale because I don't like her personality. I have a lot of girls here who have come around with full time milking, but I haven't had the chance to give this one the treatment yet, so she's wild. But at this price ($100 less than the price of a kid from Galena) for this pedigree, I think she is a very good deal all the same, so if you have to patience to work with her, I think she will reward you. She kidded in the depths of the cold in February 2015, I missed it, and the kids did not survive...due to everything else going on here at that time I did not milk her nor did I get udder pictures, but it was a typical Avatar udder, which is to say, very solid.
$500 open--sold
Show record: not yet shown
| | | |
| --- | --- | --- |
| DOB 4/5/13 | extended pedigree | LA |
A nice doe with a nice udder, but one more than I am allowed to keep this year!
$600 in milk--sold
Show record: not yet shown
Show quality dry yearlings:
Brood doe quality/Family milkers: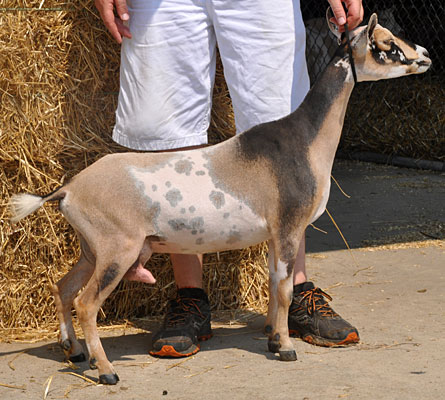 September, 2015
| | | |
| --- | --- | --- |
| DOB 1/15/14 | extended pedigree | LA |
I lost my beloved Cassiopeia to leg injuries sustained during the Horrible Winter of 2015...so I am very grateful to a terrific buyer who agreed to sell this beautiful daughter back to me. Wild and crazy, like her dam, thank goodness, or I don't think Robin would have parted with her...not quite as nice a doe as her dam, so reluxtantly offered for sale. Much better now for having been milked full time for these couple of weeks.
$300 -- sold

June, 2014
| | | |
| --- | --- | --- |
| DOB 3/21/13 | extended pedigree | LA V++ overall +, 2015 +VE+ 83 |
My favorite kid of the 2013, hands down. Very fond of socks. Gala did not actually freshen in 2014, but in the tradition of her maternal line, emphasis on MATERNAL, she stole a kid from another doe, came into milk, and nursed him. As a result her udder is rather petite, though she raised "her" kid just fine. Also as a result, I guess she could not technically be appraised as a senior doe. Why? Who the heck knows. The attachments look sound, however, and I expect a bit more capacity with a true freshening.
Unfortunately as sometimes happens with precocious udders, the second freshening shows some severe unevenness, so sadly Gala is here in the brood doe section. She is a gorgeous doe with a very sweet, loving personality, and one half of her udder very much larger than the other. If I were not trying to reduce my numbers and my workload, I'd keep this one forever, but reality has struck. If her udder were not blemished, this would be a top quality show doe. She is one of very few Party daughters that I have ever offered for sale.
$600, open--sold
Show record: not yet shown
(Photo by Declan Dean) Very capacious milker with decent attachments but not a show doe. She does have an utterly superb pedigree, with potential for producing much better than herself. Althea is a very sweet doe, but little shy. She is perfect on the milk stand, and well behaved; though she's occasionally reluctant to be caught, if she knows the routine she comes willingly to the gate to be milked. For more photos and information, click here to go to Althea's page.
$300 -- sold
Rejoice freshened with a capacious, well shaped, easy to milk udder but her attachments are not show quality. As you can see, she is a sweet bottle baby, loves to be milked, and loves her people. She is a petite doe, but milks very well for her size. She would make a super family milker or brood doe.
$400.00, open--sold
Show record: