June, 2014
| | | |
| --- | --- | --- |
| DOB 5/22/09 | extended pedigree | LA 2010 VVV, V; 2012, VVEE 89, 2013 +EEV 87, 2014 VVEV 89, 2015 VEEV 89 |
Abby developed mastitis immediately after freshening for the first time, and lost all production in one side of her udder. She did freshen almost perfectly normally the second time around, except that the previously dry right side has a teat that points slightly forward...notice the contrast between the left side udder close up and the right side full body shot--in fact the teat on the uaffected side is nicely plumb. I do not know that the mastitis was the cause, but in any case I am lucky that she recovered that well.
Abby has some of the tightest attachments in the herd, and milks down to absolutely nothing, so she looks like she has a bit less capacity than she actually does. Her udder is also attached very wide to the sides, which you can see in the 3 quarter udder view below. This gives it more capacity than most pictures tend to show. I would like to see a little better delineation of the teats for a slightly more esthetic looking udder from the rear, but all in all, this really is one of my best and most productive udders.
Abby also has just about the most spring of rib of any doe here, except maybe Dierdre, so although she doesn't carry any excess flesh, she looks a little chunky--believe me, that is all frame, no pork. She really is a doe that is even better than she looks when you get your hands on her.
Show record: 1 x 1st Sr. yearling, 1 x RGCH Jr. Doe, 2 x GCH Sr (Blandford Fair, 9/3/12, Lynn Fleming; NHDGA show, New Boston NH, 6/1/14, Patricia Lynn Ricotta), 1 x RGCH (Sunny Sisters, Lancaster, MA, 6/14/14, Barb Norcross, restricted leg awarded)
Kidding record: 2011, single buck by Avatar; 2012, triplet does by Rebel; 2013, quads, two bucks and two does by Holy Bull; 2014, buck/doe twins by CH Sirius, 2015, triplets, two bucks and a doe by Garibaldi.
July, 2012
May, 2011
305 day test data
Age (yrs.months)
DIM
Milk, lbs
Fat, lbs
% Fat
Protein, lbs
% protein
High test day, lbs
3.00
209
544
25
4.6
24
4.4
3.2
3.11
207
500
22
4.4
20
4.0
4.2
4.10
292
750
46
6.2
36
4.8
3.7
6.00
112
360
15
4.2
21
5.8
3.2
July, 2012
July, 2012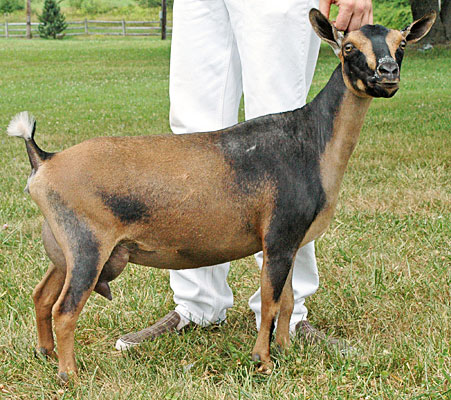 July, 2012