May, 2012
There is not much I would want to change about Callisto, except it is unfortunate that she is a 4 year old sort-of 2nd freshener..she lost her kids at day 130 the first time around and so she technically never "freshened" at all. Her udder was really worth waiting for--it is beautiful,with a very large area of attachment, very nice capacity, and a strong correct udder floor, very reminiscent of her dam's 2nd freshening udder. Her third freshening at 5 years is even better, although I think her production reflects that she had only a single kid, and I hope she will catch up with her peers with one or two more freshenings.
Show Record : 4 x 1st, 1 x GCH Jr Doe (ADGA), 1 x Best Junior Doe in Show (ADGA)
Kidding Record : December, 2007: 2 does and 1 buck by Rio, born too early to survive; March, 2010, buck/doe twins by Rebel; April, 2012, single buck by Poseidon.
April, 2012
April, 2010
305 day test data
Age (yrs.months)
DIM
Milk, lbs
Fat, lbs
% Fat
Protein, lbs
% protein
High test day
5.11
134
313
13
4.2
12
3.8
3.2
September, 2007--(Photos by Kieran Dean.)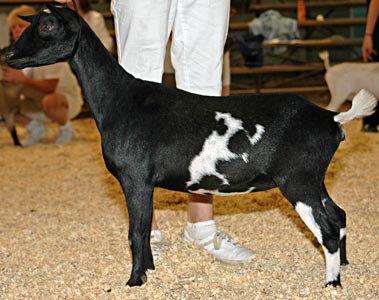 At 2007 AGS Nationals, last in her class--3 months later Best Junior doe in Show. Go figure...
305 day test data
Age (yrs.months)
DIM
Milk, lbs
Fat, lbs
% Fat
Protein, lbs
% protein
High test day, lbs
3.10
147
354
17
4.8
13
3.7
3.5
June, 2006