September, 2009
This doe has blossomed into a real beauty. She has several stunning full sisters and brothers. Pacifica's breeder, Kellye Bussey of Twin Creeks, describes a full sister, Twin Creeks BW Seashell, as having a mammary system "about as perfect as any we've ever bred". I see a lot of potential here. At her first show as a senior doe, she walked out of the ring with the RGCH, having been described as "the ideal Nigerian Dwarf". Third freshening udder shown below.
Show record: 2 x 1st, 1 x RGCH2006 ANDDA All-American Milking doe 2 years to under 3
Kidding record: 2006: buck/doe twins by Hunk (see Sweetwater); 2007: buck/doe twins by Lancelot (see Niniane); 2008, twin bucks by Lancelot .
305 day test data

Age (yrs.months)

DIM

Milk, lbs

Fat, lbs

% Fat

Protein, lbs

% protein

High test day, lbs

3.04

257

627

39

6.2

27

4.3

4.1

4.04

149

377

25

6.6

17

4.5

2.8

5.04

152

418

26

6.2

18

4.3

4.6
October, 2008
August, 2007 (Photos by Lorene Toth.)

June, 2006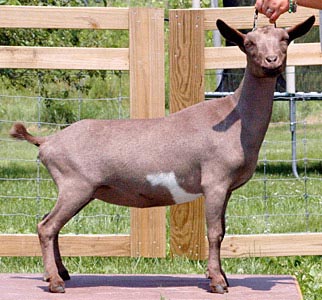 June, 2005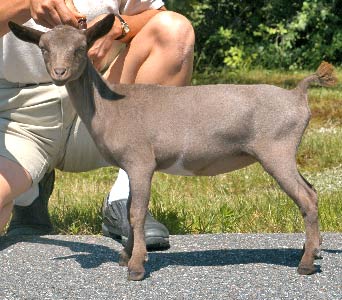 June, 2004; photo by Bonnie Chandler