October, 2009
Tiger's Eye's main claim to fame at this time is that she is the dam of the 2011 ADGA National Champion Nigerian Dwarf. Well, I'll probably be repeating that breeding a time or two. I would describe Tiger as a solid, workmanlike doe with a pretty nice udder, and our 2009 linear appraiser apprently agreed with that. However, evidently she has just the right stuff for Rebel to work with, because her daughter was described by Lauren Acton, the 2011 ADGA National show judge, as follows: "Yes, she's young, but that's her only fault--she's young." What else can you say to that.
I just have to write this somewhere on my web site--I really do not want to sound like I am complaining, but I do feel that in many cases there is a considerable inconsistency between LA scores that I see at other farms and those I have received here at Dragonfly Farm. I have seen photographs of goats that really do not strike me as being better in any area of the scorecard than Tiger's Eye, here, or any one of a dozen others in my herd, and yet these animals have LA scores 3, 5, or more points higher...it is a mystery. Just to be clear--I feel that my scores have on the whole, with some exceptions, been fair. I feel that the problem is with those higher scores--there has in the past been a serious "grade inflation" effect occuring that somewhat skewed the integrity of the point scale, at least as it applies to Nigerians. Just my opinion.
Kidding record: (since we have owned her) 2009, Twin does,(see Topaz) by Rebel; 2012, twin bucks, by Ranger; 2013, twin does by Rebel, 2015, single buck by Solaris.
July, 2009
305 day test data
Age (yrs.months)
DIM
Milk, lbs
Fat, lbs
% Fat
Protein, lbs
% protein
High test day, lbs
7.06
154
270
20
7.5
12
4.5
1.9
8.02
247
340
24
7.1
16
4.7
2.7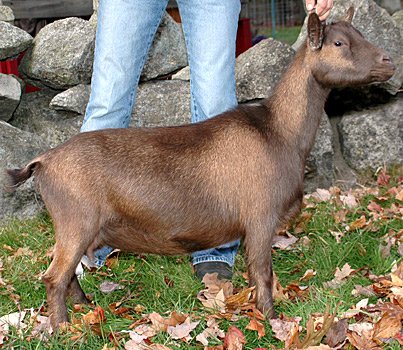 October, 2008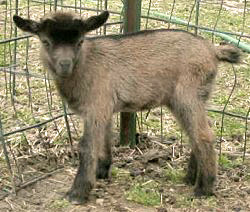 March, 2005