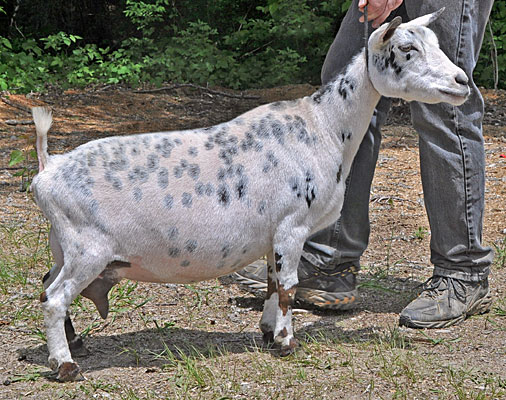 June, 2014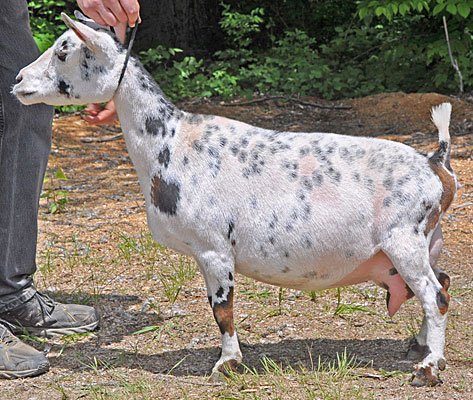 July, 2012
May, 2009
| | | |
| --- | --- | --- |
| DOB 2/17/05 | extended pedigree | LA 2009 +VVV 84, 2010 +VVV 86, 2012 VEEE 90, 2013, VEEE 89, 2014, EVEV 90 |
It was serendipity that we ended up with Ella; she was originally sold to another breeder, and when that sale fell through, I jumped at the chance to buy her. Sunni, Ella's breeder, has retained her full sister Ever After, and considers her one of her best--and we can see why. Ella's dam is closely linebred on Surprise, being a result of a breeding of Surprise to her son Flash. Ella represents a cross of the Surprise line with a Kingwood descendant, which has proven very successful in the past. She is very elegant and level on the move, with great legs and feet and a sweet, cheerful disposition to boot. Ella's udder is a carbon copy of her beautiful sister's, a very good thing. It also bears a strong resemblance to that of Something Wild, her paternal half sister, though their dams are not related; this is nice evidence of the prepotence of their sire, Fox Fire.
At well over 9 years of age Ella has not lost even a tiny bit of her capacity or attachments, and her feet and legs are still perfect.
Show record: 2 x 1st, 1 x GCH Sr Doe (May, 2014, Altamont Doe shows, judge David Funk)
Kidding record: 2008, buck/doe twins by Giacomo; 2009, twin bucks by Halifax, 2010, triplets, two does and a buck by Rebel, 2012, twin does by High Tide; 2013, triplets by Hallelujah, 2014, single buckling by Tuan, 2015 twin does by Ranger.
July, 2012
April, 2008
305 day test data
Age (yrs.months)
DIM
Milk, lbs
Fat, lbs
% Fat
Protein, lbs
% protein
High test day
4.03
90
305
15
4.9
12
3.9
4.3
5.02
262
644
39
6.1
26
4.0
4.2
7.02
234
571
32
5.6
23
4.0
4.2
8.01
292
557
35
6.3
23
4.1
3.5
9.01
311
629
3
6.8
31
4.9
3.4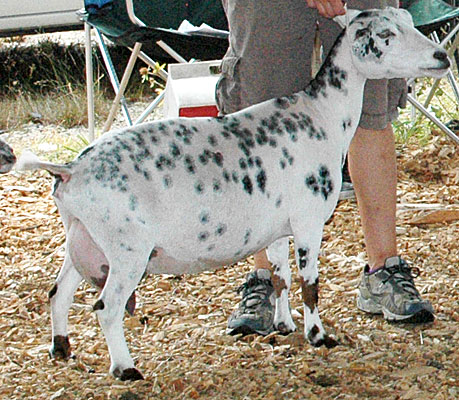 July, 2012
October, 2007